I have this silly habit of reading multiple books at once. Here is my current list.
Heaven is Here: An Incredible Story of Hope, Triumph, and Everyday Joy
by Stephanie Nielson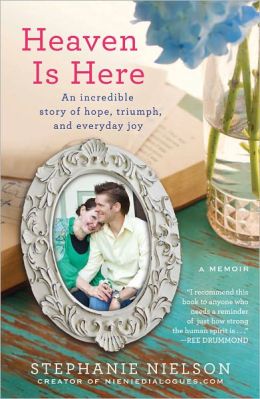 I'm glad my book club friends chose this book for our next meeting. Stephanie is a serious hero in my book, and so is every one of her family members. She and they epitomize what a strong, loving family is like. Her story made me appreciate my healthy body, the little everyday joyful moments with my family and friends, my faith, prayers, and the promise that God will never leave us alone.
Disclaimer: I recommend this book to married women only, because the author (whom I adore after reading this book) included hints of healthy, married sexuality, as part of her story, as her body was so broken she didn't think she would ever have that kind of relationship with her husband again. I'm very glad I read it, but I wouldn't let my sons read it.
John Pontius changed my life years ago when I read Following the Light Into His Presence, which teaches how to live life by the Spirit. I have recommended that book to many people. Then I got to meet John and his wife Terry in October 2012, and hear him speak, a couple months before he passed away. When John was told he had six months to live, he started a blog called Unblog My Soul. This book is a compilation of favorite blog posts that Terry compiled after John's death. I love the posts about spiritual nuggets John has learned like ways to study the scriptures better, or how to tell the difference between the voice of the Holy Spirit, the adversary, and your own thoughts. But my favorite are the miracle stories. I love those. I have marked many of them to remind me to share them with my family. They love them too. I also highly recommended to my son Adam, who is leaving on a mission to France soon, that he read this book. I recommend it to any missionary getting ready to serve.
This is the book we're currently using for our daily family devotional. I read it aloud, we discuss it, and everyone shares their take-away from it. The chapters are small. I have a collection of talks from Elder Scott, as I love his teachings about personal revelation and finding principles as you study. You'll notice some familiar stories or teachings in here, as some of the content has been shared at General Conferences before. Small book, packs a big punch.
Falling to Heaven: Surprising Path to Happiness by James Ferrell
I love all the books I've read by James Ferrell or the Arbinger Institute for which he speaks and writes:
After loving the other books, Falling to Heaven did not disappoint. It was
a surprising path, as I didn't know what to expect from the title. Think Rameumptum and much of the self-help section at Barnes and Noble. Now think the opposite. That's what this book is about. I'm not going to tell you any more than that.
This is a book I listen to on Libri Vox on my phone when I'm commuting and don't have another audio book going. It's taking me a long time to finish, but I love this sweet story.
What are you reading these days?