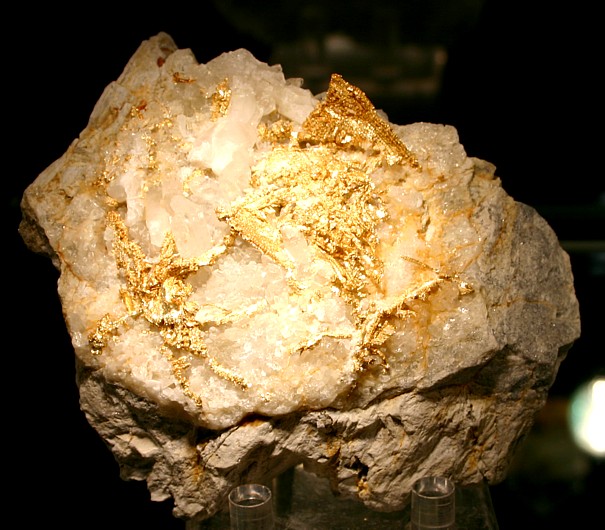 The veins of gold are like principles. The rock is like the scripture story. The rock is important to the gold miner because the rock holds the valuable part -- the gold. The scripture story is important to us because it holds the most important part -- the principle.
1.

"One cannot honestly study the scriptures without learning gospel principles because the scriptures have been written to preserve
principles
." (President Marion G. Romney, CES Mtg, 8/17/79)
2.

"
Principles
are concentrated truth, packaged for application to a wide variety of circumstances. A true principle makes decisions clear even under the most confusing and compelling circumstances."(President Richard G. Scott, "Acquiring Spiritual Knowledge," Ensign, 11/93)
3.

"As you seek spiritual knowledge, search for
principles
. Carefully separate them from the detail used to explain them. ... It is worth great effort to organize the truth we gather to simple statements of principle." (President Richard G. Scott, same as above)
4.

"If [you] are acquainted with the revelations, there is no question – personal or social or political or occupational – that need go unanswered. Therein is contained the fulness of the everlasting gospel. Therein we find
principles
of truth that will resolve every confusion and every problem and every delimma that will face the human family or any individual in it." (President Boyd K. Packer, "Teach the Scriptures," CES mtg, 10/14/77)
5.

"One of the most important things you can do ... is to immerse yourselves in the scriptures. Search them diligently. Feast upon the words of Christ. Learn the doctrine. Master the
principles
that are found therein." (President Ezra Taft Benson, "The Power of the Word," Ensign, 5/86)
6.

"If we're not reading the scriptures daily, our testimonies are growing thinner..." (President Harold B. Lee, Teachings of the Presidents of the Church: Harold B. Lee [2000], 66)
7.

"It is certain that one who studies the scriptures every day accomplishes far more than one who devotes considerable time one day and then lets days go by before continuing." (Elder Howard W. Hunter, "Reading the Scriptures," Ensign, 11/76)
8.

"The Lord has embedded in [the Book of Mormon] his message to you." (President Eyring, "The Book of Mormon will change your life," Ensign, 2/2004)
9.
When Joseph Smith said his famous quote that "...M
an would get nearer to God by abiding by [the Book of Mormon's] precepts, than by any other book," he didn't say that would happen from reading it. He essentially said we would get nearer to God by applying the
principles
in the book. Just reading doesn't have the power to bring us nearer to God and change us to be more like Him.
Go here for more about why principles are important when you learn anything.
Here are a few more awesome quotes about the power of scriptures.