My artsy friend felt an urge to take a Sharpie to her laptop.
So she asked people to share their favorite short, inspiring quotes that impact and drive them to do the hard work to accomplish their life missions and help their family members to the same. The responses were so good that I had to share these awesome quotes. I added memes of some of my favorite quotes too. (I won't take the time to verify if all the quotes are properly written or cited.)
Please share which quote you liked best or add one to the list in the comments below!
Work keeps at bay three great evils; boredom, vice, and need. -Voltaire
Tell me and I forget. Teach me and I remember. Involve me and I learn. Benjamin Franklin
'Even miracles take a little time."- Ralph Waldo Emerson
"If you pray for rain be prepared to deal with some mud."-Mary Englebreit
"There is great meaning in life for those who are willing to journey." -Jim England
"Another word for creativity is courage." -George Prince
"A mind that is stretched by a new experience can never go back to its old dimensions."-Oliver Wendell Holmes Jr.
"The best and most beautiful things in the world cannot be seen or even touched- they must be felt with the heart." -Helen Keller.
"This too shall pass."
"Just keep swimming. Just keep swimming."
"Whether you think you can, or you can't; you're right." Henry Ford.
"Come what may and love it." Joseph B Wirthlin
Everyday holds the possibility of a miracle.
You get a whole brand new day every day.
Decisions determine destiny. - Thomas S. Monson
Twenty years from now, what will you wish you had done today?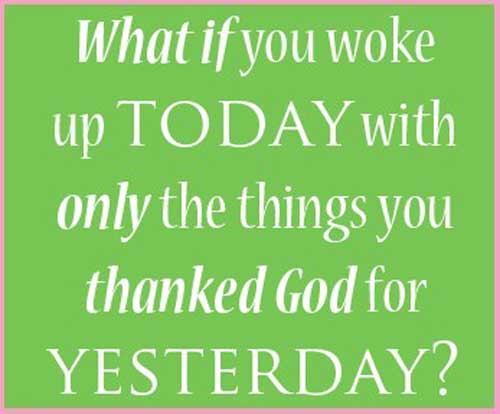 Our family motto this year is, "This is the day which the LORD hath made; we will rejoice and be glad in it."
"We are hard-wired for joy." - Dona Eden
Remember that your natural state is joy.
The day I decided that my life was magical, there was suddenly magic all around me.
Be so happy that when others look at you they become happy too.
Joy is a net of love by which you can catch souls. - Mother Teresa
Wake up every morning with the thought that something wonderful is going to happen.
Sis's Hinckley's advice to her grandaughter when she needed to know what to do about the fits her daughter was throwing. "Just save the relationship." — Marjorie Pay Hinkley
"How did a nice girl like me get into a mess like this?"-- Marjorie Pay Hinckley
God can repair a broken heart, if he has all the pieces. ~my favorite fortune cookie, ever
The first, the middle, and the last thing to do is PRAY. ~ Henry B. Eyring
"Life is good, when you live in such a way to make it so" -BENJAMÍN DE Hoyos.
Trust the Process - Rachel DeMille
Be the Change You Wish to See in the World - Gandhi
Your Work is to Discover Your Work and Then With All Your Heart to Give Yourself to it. - Buddha
Find Joy in the Journey - Thomas S. Monson
Gareth Robertson One's mind, once stretched by a new idea, never regains its original dimensions.- Oliver Wendell Holmes
The only thing that ever sat it's way to success... was a hen.
The harder you work, the luckier you get.
Work will win when wishy-washy wishing won't. -Thomas S. Monson
Either you run the day, or the day runs you. -Jim Rohn
Who knoweth whether thou art come to the kingdom for such a time as this? - Mordechai to Esther
Without hard work nothing grows but weeds. -Gordon B. Hinckley
One life is all we have and we live it as we believe in living it. But to sacrifice what you are and to live without belief, that is a fate more terrible than dying..I am not afraid... I was born to do this.-Joan of Arc
"I am Johannes Verne, and I am not afraid."- Louis L'Amour, Lonesome Gods. (I change it to fit my name though, and its helped me through some rough patches.)
War must be, while we defend our lives against a destroyer who would devour all; but I do not love the bright sword for its sharpness, nor the arrow for its swiftness, nor the warrior for his glory. I love only that which they defend. - J.R.R. Tolkien, The Two Towers, Faramir
Mean moms make the best kids.
Gratitude is turning what you have into enough.
"There is not enough darkness in all the world to put out the light of the smallest candle." - unknown
To help you remember you are not stupid: "Life is hard. It's harder if you're stupid." -John Wayne
Self discipline is doing what should be done, when it should be done whether you feel like it or not. -Brian Tracy
Be humble, for you are made of earth; be noble, for you are made of stars. -Serbian Proverb
You have brains in your head and feet in your shoes, you can steer yourself in any direction you choose.-Dr Seuss (Oh the places you'll go)
Isn't it funny how day by day nothing changes, but when we look back, everything is different.-C.S Lewis
No man ever steps in the same river twice, for it's not the same river, and he's not the same man.- Heraclitus
At the end of the game, the king and pawn go back in the same box. -Italian Proverb
To cause an avalanche you can shake a mountain or find the right place to drop a snowflake. - Unknown
Throw more love at the problem, not less. - Coffee mug
A fight is not won by one punch or kick. Either learn to endure or hire a bodyguard. - Bruce Lee
If no one ever took risks, Michaelangelo would have painted the Sistine floor. - Neil Simon
Here is the test to find whether your mission on earth is finished: if you're alive, it isn't. - Richard Bach
When obstacles arise, you change your direction to reach your goal, you do not change your
decision to get there. -Zig Ziglar
Act, and God will act. -Joan of Arc
I have had dreams and I have had nightmares, but I have conquered my nightmares because of my dreams. -Jonas Salk
Every human being is intended to have a character of his own; to be what no others are, and to do what no other can do. -William Henry Channing
Don't wait for extraordinary opportunities- seize common occasions and make them great. Weak men wait for opportunities; strong men make them.-Orison Swett Marden
When you arise in the morning, think of what a precious privilege it is to be alive - to breathe, to think, to enjoy, to love. -Marcus Aurelius
Life is about using the whole box of crayons. -Unknown
Whatever with the past has gone, the best is always yet to come.-Lucy Larcom
This day shall turn all griefs and quarrels into love.- William Shakespeare
Every father should remember that one day his son will follow his example instead if his advice. - Unknown
You can't wait for inspiration. You have to go after it with a club.-Jack London
Be Still and Know That I Am God...
Change your words, change your world
You can choose to be right, or you can choose to be happy. -Dr Phil
"There is no school equal to a decent home and no teacher equal to a virtuous parent." - Mahatma Gandhi
What we learn with pleasure we never forget. - Unknown (to me)
My life is my message. - Gandhi
"If you judge others, you will have no time to love them". - Mother Teresa
Character: The ability to carry out a worthy decision after the emotion of making that decision has passed.
"Silence in the face of evil is itself evil: God will not hold us guiltless. Not to speak is to speak.
Not to act is to act." - Dietrich Bonhoeffer.
"God helps me, that is what I think, and then I am calm." - Carl Bloch
"It is not our abilities that show what we truly are, it is our choices!" ~Dumbledore - Harry Potter
"God not only loves the obedient. He enlightens them." - Henry B. Eyring
As a man thinkith so is he....James Allen
Lately I've been struggling with comparing myself with others, so I remind myself, "Keep your eyes on your own paper." Not particularly profound, but it's working for me.
Fear not to do good, my sons, for whatsoever ye sow, that shall ye also reap; therefore, if ye sow good ye shall also reap good for your reward. - Doctrine and Covenants 6:33
"Wherever you are there you are!" Zig Ziggler
If you want to lead an orchestra you must first turn your back to the crowd."
"Meekness is not weakness, it's the Christian badge of courage" Member of the LDS quorum of the twelve I can't remember who?
"She turned her cant's into cans, and her dreams into plans"
Work is love made visible.
Be an AGENT for yourself rather than a OBJECT to be acted upon. (Comes from David A. Bednar, but sort of summarized)
"No one can make you feel inferior without your consent." -Eleanor Roosevelt
The question is not how much does the youth know when he has finished his education- but how much does he care? -Charolette Mason
We learn to do something by doing it. There is no other way. -John Holt
The purpose of life is not to be happy. It is to be useful, to be honorable, to be compassionate, to have it make some difference that you have lived and lived well. -Ralph Waldo Emerson
When life gets too hard to stand ... kneel. Gordon B. Hinkley
"Treat people as if they were what they ought to be and you help them to become what they are capable of being." Johann Wolfgang von Goethe
Whether you think you can or think you can't, You're right. Henry Ford.
One woman shared the quotes that are on her bathroom wall. Doesn't that look cool?
Your own resolution to succeed is more important than any other factor. Abraham Lincoln
Do your best
I can do all things through Christ, which strengtheneth me.
Do what's right, not what's easy.
"This above all: to thine own self be true, And it must follow, as the night the day,
Thou canst not then be false to any man." Polonius from Shakespeare's Macbeth.
"It's All Good!"
"The most important work you will ever do will be the work you do within the walls of your own home." Harold B. Lee
"We cannot solve our problems with the same thinking we used when we created them." - Albert Einstein
"If you want your children to be intelligent, read them fairy tales. If you want them to be more intelligent, read them more fairy tales." - Albert Einstein
"Your life is supposed to feel good to you." - Abraham Hicks
"You can't take sides against anything. If you would just be one who is for things, you would live happily ever after. If you could just leave the "against" part out." - Abraham Hicks
"If a nation expects to be ignorant and free, in a state of civilization, it expects what never was and never will be." Thomas Jefferson
Never do something for someone else that they can do for themselves.
Erin Daniels This too shall pass. (Reminds me to savor the good parts and to remember the bad parts aren't forever.)
You cannot struggle to joy. Struggle and joy are not on the same channel. You joy your way to joy. You laugh your way to success. It is through your joy that good things come. - Abraham Hicks
While raising my children this plate and quote from The Lord's Prayer helped me. Ironically the kids ended up breaking my plate, one of the few things I remember forgiving them for because most of the other things are forgotten. Quote" Forgive us our tresspasses as we forgive those who trespass against us."
Forgiveness is the ultimate kindness.
Win the children over, don't win over the children.
"Who are you?" from Alice in Wonderland
"I have no special talent, I am only passionately curious." Albert Einstein
"Speak the truth, even if your voice shakes." Not sure who said this.
"Don't raise your voice, improve your argument." Desmond Tutu
"The only way to deal with an unfree world is to become so absolutely free that your very existence is an act of rebellion." Albert Camus
"Don't exchange what you want most for what you want at the moment." Unknown
"In the midst of winter I found there was within me, an invincible summer." Albert Camus
"Get busy living or get busy dying." Stephen King
"A little rebellion is a good thing." Thomas Jefferson
"Question everything. Learn something. Assume nothing." Euripides
"Beware for I am fearless and therefore powerful." Mary Shelly
"There is nothing like looking, if you want to find something." Tolkein
"It doesn't take courage to do the things you're not afraid of." Ralph Moody
Practice makes perfect.
Fail to plan, plan to fail.
"Think and grow rich." - Napoleon Hill (I know it's a title, but I've been thinking of it more and more as an instruction.)
"If you love life, then do not squandor time. Time is the stuff life is made of." - Ben Franklin
Procrastination is the thief of eternal life.
"O be wise, what can I say more?" Book of Mormon, Jacob 6:12
"There is no chance, no destiny, no fate that can circumvent or hinder or control the firm resolve of a determined soul." - Hyrum Smith (co-founder of Franklin-Covey)
"When you really want something, you'll find a way; when you really don't, you'll find an excuse."
"Whatever you vividly imagine, ardently desire, sincerely believe and enthusiastically act upon must inevitably come to pass!" - Paul J. Meyer
Until you value yourself, you won't value your time. Until you value your time, you will not do anything with it. - M. Scott Peck
Whatever you are, be a good one.
My personal favorite is "Give me a young woman who loves home and family, who reads and ponders the scriptures daily, who has a burning testimony of the Book of Mormon. Give me a young woman who faithfully attends her church meetings, who is a seminary graduate, who has earned her Young Womanhood Recognition Award and wears it with pride! Give me a young woman who is virtuous and who has maintained her personal purity, who will not settle for less than a temple marriage, and I will give you a young woman who will perform miracles for the Lord now and throughout eternity." - Ezra Taft Benson September or October 1986. He has one for the young men that I used as a guideline in choosing a husband. That one was said in April 1986.
The value of an idea lies in the using of it." Thomas Alva Edison
Something my mother always said to me, I hated it, it has stuck and followed me in life, and brought much desired change, "It is not enough that we do our best; sometimes we must do what is required." Winston Churchill
I also love what Gordon B Hinckley prayed for daily with his children, "Live without regret."
"We can't take any credit for our talents, it's how we use them that counts." - From the Wrinkle in Time (L'Engle).
LOVE not fear!
Think right, and you'll do right! My father said this to us all the time. His name is B. Almas
I will go and do...
"Nobody sees a flower really; it is so small. We haven't time, and to see takes time - like to have a friend takes time." -Georgia O'Keeffe
Bloom where you are planted.
I eat roadblocks for breakfast. (Becky's note: that one made me throw my head back and laugh.)
Gratitude makes what we have enough.
Do the right thing, for the right reason, and do it all the time. Proverbs 3:5-6.
"Hold on. Just hold on."
"Blessed are the flexible, for they shall not be bent out of shape."
And, my personal homeschool mantra: "An ounce of morning is worth a pound of afternoon." (Becky's comment: As a homeschool mom, I have to agree with this one 100%!)
I can do hard things!
"Put my shoulder to the wheel!"
"It is never unwise to do what is necessary."- Sarek, Spock's Father
"It takes ten times as long to put yourself back together as it does to fall apart."― Suzanne Collins, Mockingjay
"Self appointed expectations lead to self induced frustrations." --Abraham Lowe
"We all have good judgment in our own eyes." --Robert Millett (not the BYU professor)
"We don't discover humility by thinking less of ourselves; we discover humility by thinking less about ourselves." --Deiter F. Uchtdorf
"You cannot break a [natural] law; you can only break yourself against it." --Leslie Householder
"Abundance is not license to be wasteful, it's what happens when you're being grateful." --Matthew Parks
"Find a purpose in life so big it will challenge every capacity to be at your best." --David O. McKay
"Between stimulus and response, there is a space. In that space is our power to choose our response. In our response lies our growth and our freedom." --Viktor Frankl
"If you can't change a situation, you can change your attitude toward it." --Abraham Lowe
"Fear is a belief -- beliefs can be changed." --Abraham Lowe
"Every act of self control leads to a sense of self-respect." --Abraham Lowe
"Have the courage to make a mistake." --Abraham Lowe
Everything is easier with a good attitude.
I keep telling my kids "Attitude determines your experience."
"Wherefore we are what we repeatedly do; therefore excellence is not an action but a habit." - Aristotle
"Self-discipline = self-confidence."
Begin each day with a grateful heart ♡ <<<keeps me going every day!
"Whenever you find yourself on the side of the majority, it is time to reform (or pause and reflect)." Mark Twain
January 18 at 1:21pm · Like · 2
When God sees you doing your part, developing what He has given you, then He will do his part and open doors that no man can shut.
When you have exhausted all possibilities, remember this, you haven't. - Thomas Edison
"All is well, all is well. Though everything is a mess, all is well." ~Anthony de Mello
Either write something worth reading or do something worth writing about (or something like that). Benjamin Franklin.
Attitude is contagious, make sure you have one worth catching.
You cannot unsay a cruel word.
How you make others feel about themselves says a lot about you.
Children reflect the treatment they receive.
"Isn't it splendid to think of all the things there are to find out about? It just makes me feel glad to be alive - it's such an interesting world." - from Anne of Green Gables
Education means developing the mind, not stuffing the memory.
Harmony is being different together
It is not your abilities that determine who you are, but it is the choices that you make (I think it's from Harry Potter?)
Comparison is the thief of joy. - Theodore Roosevelt
"Work will win when wishy-washy wishing won't." - Thomas S. Monson.
"Everybody's gotta work. You have 2 choices. Either you love it, or you hate it." - Wendell Preece
"The difference between try and triumph is a little UMPH!" By Marvin Phillips

"You are what you repeatedly do" -Aristotle.
"The very moment you begin to seek your Heavenly Father, in that moment, the hope of His light will begin to awaken, enliven, and ennoble your soul. The darkness may not dissipate all at once, but as surely as night always gives way to dawn, the light will come." —Dieter F. Uchtdorf, "The Hope of God's Light"