Click on this link to read the article:
Sturdy Shoes and a Waterproof Tent
Church history teaches many lessons about personal preparedness. Learn big and little lessons from these groups of people.
Crossing the Plains

Mormon Battalion March

Pioneer famine of 1856

1906 San Francisco Earthquake and Fire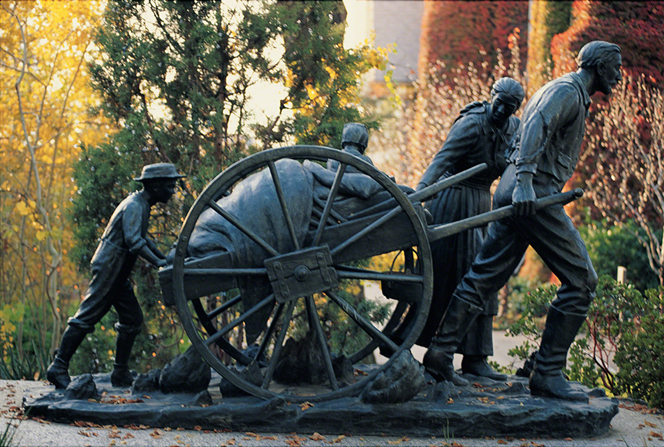 History is supposed to be learned from. Let's learn it and be better for it.
Here is a checklist of items and attitudes mentioned in the article submitted someone else.
Tent, water proof

Hats

Sunscreen (or zinc oxide if you don't want the chemicals in sunscreen)

Lip balm

Medicine for diarrhea

Food storage

Cold weather clothing: coats, gloves

Protection from mosquitos and bugs

Binoculars, knives, axes, guns, watches, pans, shovels (and don't lose them, including children)

Be very careful of injury

Put things away

First aid supplies

Protection against theft or assault

Don't complain

Maintain health: don't get over exhausted

Sing, dance, recite poetry, keep morale up

Be resourceful and creative (ie washing clothes or churning butter)

We may need to leave, we may be separated for a time (like the Mormon battalion)

Women can be tough and strong

Water

Water purification!

Journals, writing materials

Grains, varied (not just wheat)

When the spirit cautions, obey!

Lists, identification

Wills

In times of dire need, share with others

Fast often

Fill time with constructive activity, don't be idle, contribute

Sturdy shoes

Fire extinguishers

Water in non glass containers

Waterless washing

Items for cleanliness: toothpaste, deodorant (in a pinch baking soda works), small bags of detergent

Ingredients for bread

Establish a meeting place

Be prepared to leave cherished items

Ignore wild rumors, always seek the Spirit, be ever prayerful

Have good attitudes, be cheerful